Everyone wants to feel independent, in control and to feel cared about; the question is whether a personal alarm will support or hinder this. Many older people, and their support networks, start looking for personal alarms after an incident occurs or as part of planning for continued independence at home.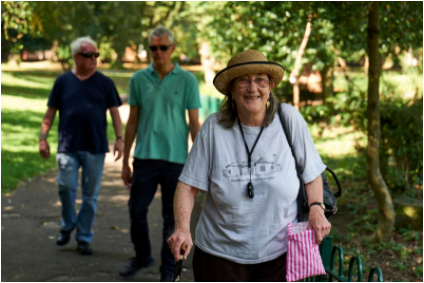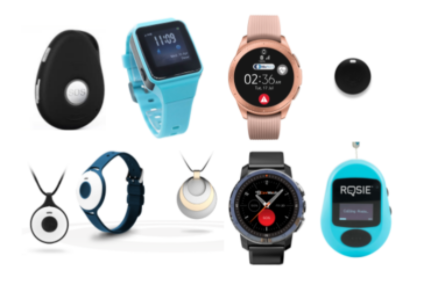 Personal alarms: safety pendants, watches and wristbands
Personal alarms come in many shapes and sizes; we're focusing on safety pendants, medical watches and wristbands. Until recently, safety pendants worn around the neck were seen as the default choice for personal alarm systems. A plethora of safety pendants are available on the market, it is a tried-and-tested product that has a long history in aged care. However, it has been found that safety pendants are not always successful at detecting falls because some people aren't wearing them when they have a fall. People have described the 'look' of the pendants and the 'stigma' attached to wearing a safety pendant as the key reasons for not wearing them.
Each product will have benefits and shortcomings so it's important to think about your lifestyle, your comfort with the technology and your purpose in having a personal alarm system before you decide.
In the table below we have selected three different safety pendants and three different safety watches/wristbands products to take a deeper look at. There are a huge variety of products available online, you're not limited to this selection. This linked article further explains the different features of various personal alarms. You may also wish to explore smart watches (such as Apple Watch) and safety sensors (such as UMPS), which are also gaining popularity among older people for monitoring safety and wellbeing.
Personal Alarm Products
Safety Pendants
Medical Watches / Wristbands
Live Life Alarms2021 Model
VitalCALLPearl Medical Pendant
Safety LinkSEVEN alarm
MepacsWatch personal alarm
LivelyWearable 2
eHomeCareiStayStafe
GPS locator
YES
NO
NO
YES
YES
YES
Automatic falls detection alarm
YES
NO
YES
YES
OPTIONAL
NO
User can activate alarm
YES
YES
YES
YES
YES
YES
24/7 monitoring
NO
YES
YES
YES
OPTIONAL
NO
Two-way speaker
YES
YES
YES
YES
YES
YES
24/7 monitoring
NO
YES
YES
YES
OPTIONAL
NO
Works out of home
YES
NO
NO
YES
YES
YES
Works at home
YES
YES
YES
YES
YES
YES
Ongoing monthly fees
NO
YES
YES
YES
YES
YES
Ongoing monthly fees
NO
YES
YES
YES
YES
YES
Upfront cost OVER $500
YES
NO
NO
YES
NO
NO
Choice of aesthetics (3 or more)
NO
NO
NO
NO
NO
YES
Long life battery (over 3 months)
NO
YES
NO
NO
YES
NO
Ease of use (less than 2 functions)
YES
YES
YES
NO
NO
NO
Requires Smartphone
NO
NO
NO
NO
YES
NO
Sources:
Swinburne University of Technology – Don't Leave Me Untouched: Considering Emotions in Personal Alarm Use and Development
Designing for Senior Citizens – Desiring to be in touch in a changing communications landscape: Attitudes of older adults
Better Health Victoria – Falls prevention at home
eHomeCare – How to select a personal alarm